The Book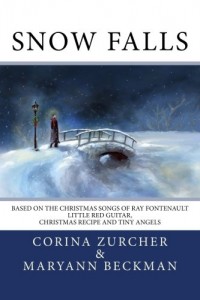 "A family man dreams of greatness in his small town. Another man desperately prays to see the face of his son before he dies. This Christmas, an angel comes to the town of Snow Falls to help these men find their inner peace and discover that ordinary miracles abound in extraordinary ways."
Available for purchase at:
Amazon, Barnes & Noble
ABOUT THE AUTHORS:
Corina Marie Zurcher is the author of the children's books Growing Up Claus and Hailey the Courageous, as well as the fantasy novels Archangels, The Father of Lights and the upcoming novel Legacy. She is also an actress, screenwriter and producer. Snow Falls is the novelization of the screenplay. Visit her website www.nevermorepublications.com. You can also join her on Facebook and Tumblr. Maryann Costa Beckman is a writer specializing in web copy, script writing, poetry and fiction. Her other works, The Secret of the Box, The People of Advent and The Journey of the Magi, are also inspirational works of fiction and poetry that the whole family will enjoy. Maryann has written reviews and copy for numerous publications and websites. A graduate of Franciscan University with a Master's Degree in Business Administration, she lives in Southern California with her husband Joshua and is always at work on her next novel. Ray Fontenault is an independent songwriter and the owner of DoRay Music Promotions. He is a member of BMI, the Rhode Island Songwriters Association, and is one of the owners at Songramp.com. Ray enjoys relationships with several publishing firms and is an award winning songwriter for his song Solid Rock, taking 1st place in the "Cashing The Stars" songwriting contest. Ray continues to promote his songs and is always looking for quality artists to cut his songs. To find out more about Ray and hear his songs, visit: www.doraymusicpromotions.com.
Maryann Costa Beckman was born in Middletown, Connecticut. She grew up in Southern California. Her first book, THE SECRET OF THE BOX was published in 2007. Her second book, THE JOURNEY OF THE MAGI, followed in 2012. Her latest book THE ULTIMATE GO TO GUIDE: ORANGE COUNTY is currently available on Amazon.
Maryann has a Masters in Business Administration from Franciscan University of Steubenville, OH and has worked for local government, small businesses and non-profits. Maryann is also a copywriter poet, and screenwriter.
She currently lives in Southern California with her husband. Maryann is currently working on several book projects including a book adaptation of a Christmas screenplay she co-wrote.